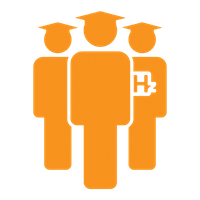 As a scientist you particularly can make a career by doing good research. At a certain point you often also get a management role. You know how you would like to be guided and supervised, but having the role of supervisor yourself, you probably have no experience with consciously using different strategies or communication styles. You want to know what you are already doing well and you want to further develop your leadership skills. You would like to learn to delegate better because you want to stimulate the development of your employees and you want to save time. You may also want to learn to negotiate in a better way with colleagues and your own supervisors. Furthermore the selection- and job interviews with new PhD students could perhaps be improved.
This training consists of a basic module of one day that can be expanded with various modules of one part of a day (morning or afternoon).
Basic Module
Situational Leadership
When is it better to instruct someone and when to delegate? In which situation coaching would be the better choice?
What is the best way to motivate people?
Communication Styles
How can I use feedback to motivate colleagues? How do I criticize correctly?
What are my preferred styles and which communication styles could I use more?
Additional modules
Project and time management, workload
Delegate effectively
Selection – and job interviews
Presenting a vision on research
Negotiating
Academic entrepreneurship, networking and valorization
"I can not think about any other feedback so far except for sincere appreciation. Big bold thank you to both of you, I like the whole design of the course, including its contents, social part, interactive part and the micro-breaks.
Very nice to sit together with other supervisors, especially with other ones who have experience as well. It really helps a lot, and these themes are great themes to discuss and get feedback on from an experienced trainer!"