You have been working in the scientific field for several years and have a fair amount of experience. Conversations with your colleagues are largely about the content of the research, but you would like to share experiences and good practices with them too.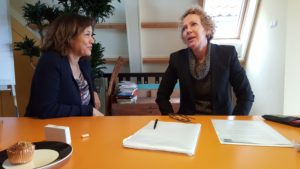 We facilitate intervision meetings which enable you to go into more detail regarding challenging situations with your colleagues and to ultimately advise and inspire each other. Possible subjects include: Career planning, Personal/Professional life balance, Negotiations, and Visibility. Naturally other subjects of your choosing can also be broached.
Depending on the wishes of the group, we decide on the number of sessions (usually 3 to 5), of approximately 2,5 hours per time. Each session is concluded by formulating one or more actions that you will put into practice. In the last session you will learn how to plan and chair this kind of meeting yourself. This makes it more likely that you will continue to reach out to each other for mutual support and inspiration in future.
A group size of 4-7 participants is ideal.