Brigitte Hertz is an advisor and facilitator on training and conferences for scientists. She has more than 20 years of experience in designing training programs and organizing and facilitating conferences and symposia.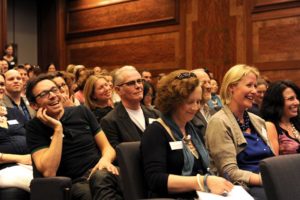 Conferences, reflection- and inspiration days
Brigitte Hertz enjoys helping you to organize a conference in an effective and original way and loves to be the facilitator of one of your meetings. Whether it is to discuss important problems or a creative session (or a combination of both), Brigitte can help you out. Key words are: clear goals and results, creative methods, pleasant atmosphere and original materials.
Advice on training programs
Brigitte often advises HRM departments on the organization of training programs. Questions she can answer for you:
Is it better to have a mixed group of scientific disciplines or a mono disciplinary group?
Will it work to mix beginners and advanced participants?
How much time is needed for a specific training?
Shall we make this training obligatory?
How many people can participate?
Is it better to plan an extra day after half a year?
What is the use of an external location?
Is it better to plan two subsequent days in a row or with a couple of weeks in between?
What are the best periods in the year/best days in the week to plan a training?